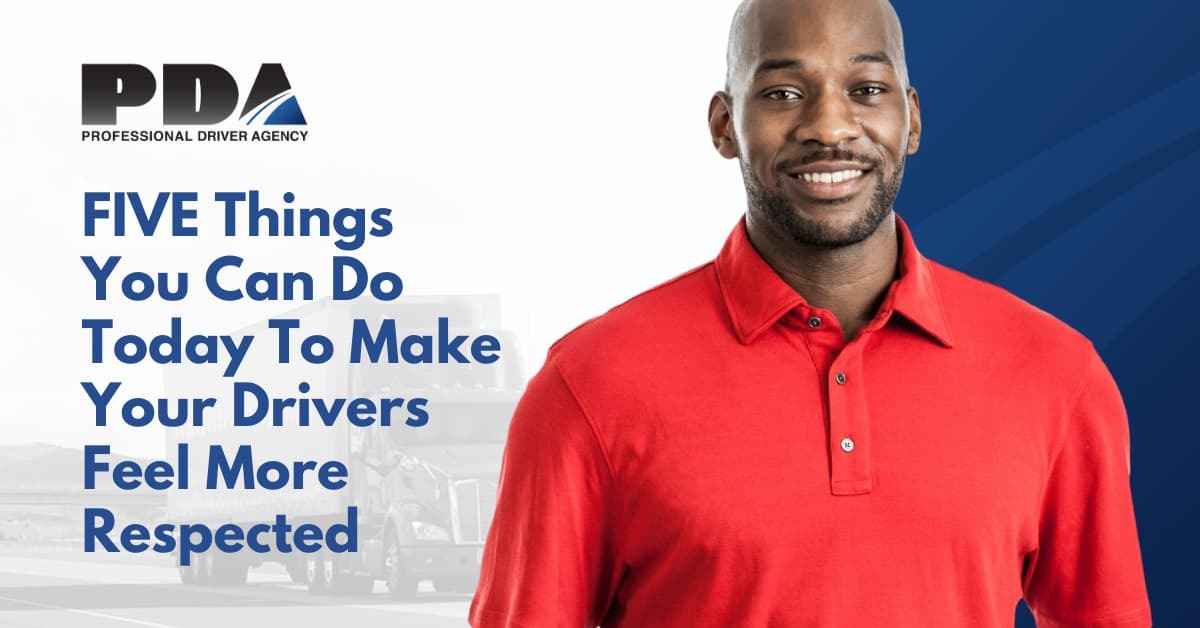 FIVE THINGS YOU CAN DO TODAY TO MAKE YOUR DRIVERS FEEL MORE RESPECTED
-
When PDA started collecting driver retention data, we had conversations with several people in the trucking industry about what they thought the data would reveal. We asked them what they thought the top driver issues would be.
Without exception, there were three issues that always came up. Pay, home time, respect. While none of those answers were surprising, the respect answer always was intriguing.
What exactly does respect look like to a driver? Like so many driver issues being thrown around today, respect is a very broad and vague issue. Getting down to the root cause of driver respect is important because there are little things a carrier can do today to make drivers feel more respected.
Here are 5 data driven things you can today do to show a driver respect.
Set drivers up for success – according to PDA driver data, when it comes to pay, drivers have consistently had more concerns about miles than pay rate. While pay rate is still an issue in a lot of driver's eyes, over 50% of drivers in 2020 complained about inconsistent miles/loads not available. What PDA data has shown is that drivers, especially newer drivers, struggled with managing their hours of service and managing their miles. Hours of service management and trip planning can be challenging. Have someone in the company that can help, tutor and mentor drivers so they can maximize their miles. If a driver is maximizing their miles, they are maximizing their paycheck. A driver that is maximizing their miles is a happy driver and it is also good for the company's bottom line.
Get a driver home on time – every trucking company has a standard operating procedure when it comes to requesting home time. When drivers follow that procedure and request home time, get them home when you say you will. Drivers spend days, and sometimes weeks, away from their homes and their families. Respect their time on the road for you by getting them home on time when they have requested it.
Assign drivers a truck that you would want to drive and live in – according to a recent driver survey done by PDA and ConversionIA, 70% of drivers said that the condition of a truck at assignment is an indication of how important a company feels about them as a driver. A driver's truck is their home and office. If you are assigning them a truck that has not been thoroughly detailed or immediately must go into the shop, what message is that giving to your new driver? Make sure you have policies and procedures in place to prevent equipment assignment issues. First truck = first impression.
It is all about communication – drivers need to feel a part of the team, and frankly, they deserve it. Too often drivers are left out of the communication loop leaving them with questions and often time frustration. PDA data has shown the top communication frustration for driver's is no response/slow response. Mirror your driver's communication habits. If a driver emails you, email them back. If a driver calls, then call them back. Communication goes beyond the driver/driver manager relationship though. If a driver's truck is in the shop, keep them in the communication loop. Drivers need to be informed on the timeline of when they can start rolling again. Communicating with drivers boils down to respect.
Compensate drivers for things that are not their fault – for those of us that work in an office, when our computer breaks down, we call IT to have them look at the device and fix it, but we still get paid for a full day's work. When a driver's truck breaks down, they do not get paid, at least not for a full day's work. Review your ancillary pay. According to the most recent PDA/ConversionIA driver survey, nearly 75% of drivers said their company does not pay enough for ancillary pay. If a driver is down for maintenance or delayed at the shipper, it is not always the driver's fault, but they pay for it in lost earnings. Pay drivers for breakdowns and delays that are not their fault. While it may be costly, it is more efficient than hiring a new driver.
Driver respect is about company culture. That starts at the top. Drivers are people who are just trying to make a living and when it comes to respect, it is about doing the little things to let your drivers know that you care.