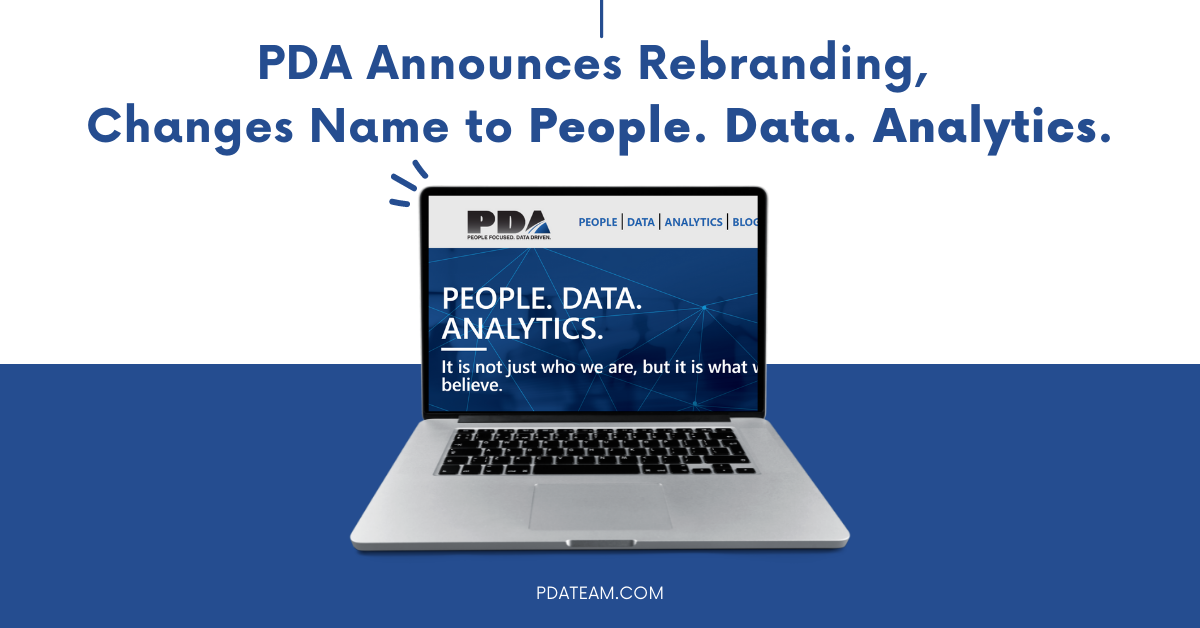 PDA Announces Rebranding, Changes Name to People. Data. Analytics.
-
Company unveils new website as part of extensive rebranding initiative
Brentwood, Tenn. – PDA, a nationwide leader in employee retention and data has completed an extensive rebranding effort aligning their brand to their evolving corporate vision of providing actionable data to help employers improve turnover. At the heart of this rebranding is a change to the company name to People. Data. Analytics. Moving forward, referred to simply as PDA.
"Over the past 12 months, PDA has cemented its status as a leader in employee retention and employee feedback data," said Darron Ming, PDA president. "In response to accelerated company growth and renewal of our corporate vision, this new brand and our evolving positioning perfectly illustrate our growing ambition and our focus on a company's most valuable asset, their people. Our main focal point continues to be in the transportation and logistics industry; however, we have been approached by several companies in health care and manufacturing to help with employee data, feedback and retention."
The People. Data. Analytics. name is rooted in the company's commitment to not only helping industries facing high turnover, but also providing them with clear, concise and actionable data. Employee feedback data allows companies to leverage insight into making more informed decisions and saving valuable employees in the process.
"One of PDA's guiding principles is that we are here to change people's lives," said Ming. "Our own employees are our most valuable asset, and that also rings true for employers across the nation. As an employer, there is no a greater responsibility than to create a work environment and culture where employees can thrive, and where they know their feedback matters."
Employers spend a large part of their budgets on recruiting, hiring and onboarding new employees every day. When one of those employees leaves, it costs tens of thousands of dollars not only in replacing that employee, but also in lost revenue.
"PDA offers comprehensive retention programs for industries with high employee turnover rates," said Ming. "Our programs offer individual employee outreach that provides real-time actionable data which allows employers to be proactive in retention and make data-based decisions regarding their workforce."
As part of this rebranding effort, PDA has launched a new website, www.pdateam.com.
'Our primary goal during this redesign process was to create a more valuable, user-centric resource to not only showcase our retention and data programs, but also provide valuable data reports, employee surveys results and commentary," said Ming. "We have reorganized information and the value add created for our partners, particularly in the transportation and logistics industry."
Founded in 2014, PDA's mission is to change the landscape of employee retention by offering comprehensive retention and rehire programs while providing employers with actionable data, allowing employers to be proactive in retention.