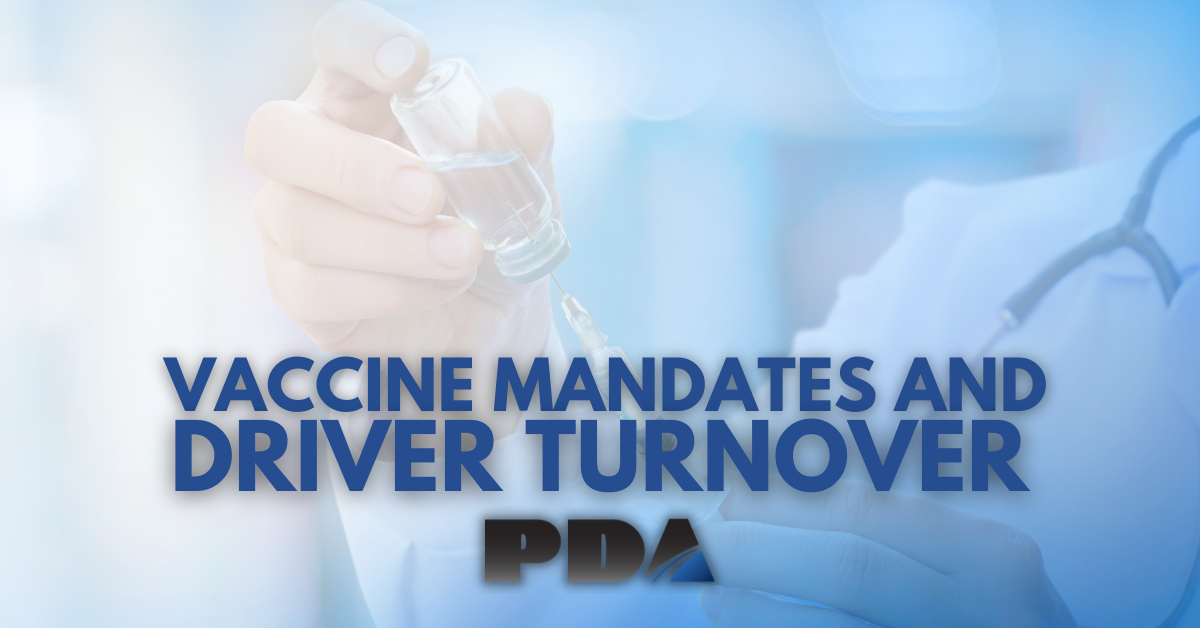 VACCINE MANDATES AND DRIVER TURNOVER
-
Last week, President Joe Biden announced that the Labor Department's Occupational Safety and Health Administration (OSHA) will issue a rule using emergency authority in the coming weeks to require employers with more than 100 employees to receive the COVID-19 vaccine or be tested weekly.

Once OSHA issues the rule, which is expected in the coming weeks, the private sector will likely have 50-90 days to comply, according to a Labor Department official.

As we've already seen, there are sure to be legal challenges to the President's mandate. However, until the dust settles, and the legal maneuvering works itself out, trucking companies must prepare for the possibility these mandates will go forward.

What would these vaccine mandates mean for the trucking industry, and what could it mean for driver turnover?

In an already tight driver market, this announcement could potentially have an extremely negative impact on turnover, especially with larger companies.

According to the CDC website, as of September 13, 53.8% of all Americans are full vaccinated and 63.1% of Americans have received at least one dose. So roughly, 47% of the population is either partially vaccinated or not vaccinated at all.

While we don't know how many professional drivers have been vaccinated, let's assume that numbers, are similar to the national average.

Trucking companies should assume there is a segment of their driving workforce that will choose not to get vaccinated, just as will be the case with the overall American public. For those trucking companies with more than 100 employees, it's that segment of drivers that could be at risk for leaving.

Those trucking companies with less than 100 employees could greatly benefit from the vaccine mandate as unvaccinated drivers look for smaller companies where they would not be required to receive the shot, or weekly tests, in order to keep driving. Or potentially look to go independent.

While the proposed vaccine mandate could be a boom for smaller trucking companies, it could prove to be a nightmare for mid to large sized trucking companies already facing a very challenging driver market.

So, what should those larger carriers be doing to prevent unvaccinated drivers from jumping ship before we know if the president's mandate moves forward.

Be informed – as we mentioned at the beginning, there are certain to be legal challenges to the President's announcement. Stay informed and know what is happening. Drivers are sure to ask questions and the more you know what is going on regarding the mandate, the better.
Communicate what you know – as mentioned, drivers are sure to be asking questions, especially those that are choosing to not get vaccinated. Be a source of news for your drivers. The more they know what you know, the less uncertainty they will have.
Communicate your plan – have a plan for all scenarios. If the mandates are held up in court, let the drivers know the plan. If the mandates move forward, make sure there's a plan in place to handle the questions and concerns of those choosing not to get vaccinated. Right now, it's possible that drivers may consider leaving with just the announcement of a mandate. Do not let that happen. Make sure your drivers know the mandates are not in effect yet and the outcome is not yet determined. Reassure them and communicate your plan.
Be honest – drivers want to know the good, the bad and the ugly. Do not try and dance around this issue. The more honest you are with your drivers, the more your drivers will appreciate it. Even if you tell them something they do not want to hear.

As if the last 17 months have not been challenging enough, the President's announcement could very well set off a seismic shift in an already turbulent driver market.

While this will more than likely end up in the courts, we do not know how this will ultimately play out. So trucking companies should be prepared for all outcomes.

Plan for all scenarios, be prepared for all situations and do not forget to keep your drivers in the loop. That could make the difference between a driver staying or leaving.