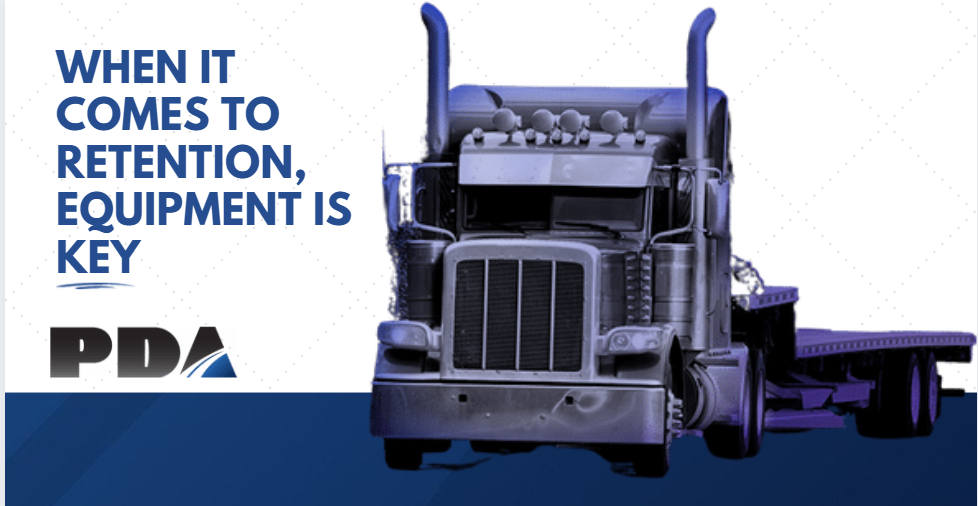 WHEN IT COMES TO TRUCK DRIVER RETENTION, EQUIPMENT IS KEY
-
When reading any article about the reasons behind truck driver turnover there are always three issues affecting a carrier's ability to retain drivers. Compensation, home time and respect are almost always mentioned as the top driver issues that usually lead to a driver leaving a company.

As we've seen in 2021, carriers are raising pay, guaranteeing pay and looking at other creative pay models to help attract new drivers and retain their current drivers. Freight continues to be strong following the COVID-19 economic shutdown, but the driver market continues to be tight. Retaining your drivers in this market is as important as it has ever been.

While it is true that issues like compensation, home time and respect are key issues to truck driver turnover, there is one issue that is affecting your driver turnover that does not seem to get the same attention as those most commonly mentioned.

PDA has been collecting truck driver retention data for over three years and one thing has been clear, equipment issues are affecting carriers' ability to retain drivers.

As PDA has done a deep dive into driver feedback data, we have seen that equipment, unlike any other issue, matters because equipment issues almost always lead to another issue of frustration for your drivers.

Here are few reasons why your equipment may be affecting your turnover.
Equipment issues cascade into compensation issues for drivers.

If a driver is consistently in the shop for breakdowns, they are not logging miles. If they are not logging miles, then they are not making the pay you promised.

Yes, drivers get breakdown pay, but it is a fraction of what they would get if they were logging miles. A recent PDA/Conversion Interactive Agency (CIA) driver survey showed that 73% of truck drivers felt their carrier's ancillary pay was too low.

To put it in perspective, if your computer goes down at the office, you still get paid what you would normally get paid while IT fixes your computer. For drivers, if their equipment is down, they do not get paid the same. So, an equipment problem for the driver this week becomes a compensation problem for a driver next week.
Equipment issues cascade into home time issues for drivers.

When PDA/CIA asked drivers what areas of your job does equipment issues impact the most, 50% of truck drivers said it impacts their home time.

Drivers have made it abundantly clear that their home time is one of the most important things to them. Matter of fact, according to our most recent driver survey, 72% of drivers said that home time was the most attractive benefit when looking for a job.

Digging a little deeper, it is not just about home time duration, drivers just want their home time request honored.

If a driver is consistently breaking down and stuck in a shop, they may be missing the home time that you promised.

Do you have a plan in place to honor a driver's home time if they are breaking down? While you cannot control a truck breaking down, you can control making sure the driver's home time request is honored.
Your equipment is the first impression you make on a driver.

According to a recent PDA/CIA survey 70% of drivers said that the condition of their equipment at the time of assignment is an indication of how the carrier feels about them as a driver. In other words, it's all about respect.

The worst impression you can make on a new driver is to give them a filthy truck or a broken-down truck.

Do you have a truck assignment process in place? Are your trucks inspected and detailed before you assign them to a brand-new driver that you have recruited? If not, you may not be making the best first impression on your newly hired driver.

When it comes to truck driver retention, there is always a lot of focus on pay, home time, and respect. Rightfully so, as those issues have been, and continue to be, extremely important to drivers. But the data shows that equipment issues directly affect compensation, home time and respect.

Equipment issues are leading to truck driver turnover. If you are not paying attention to your equipment and your maintenance department then you may be missing an opportunity to reduce driver frustration while at the same time reducing your turnover rate.