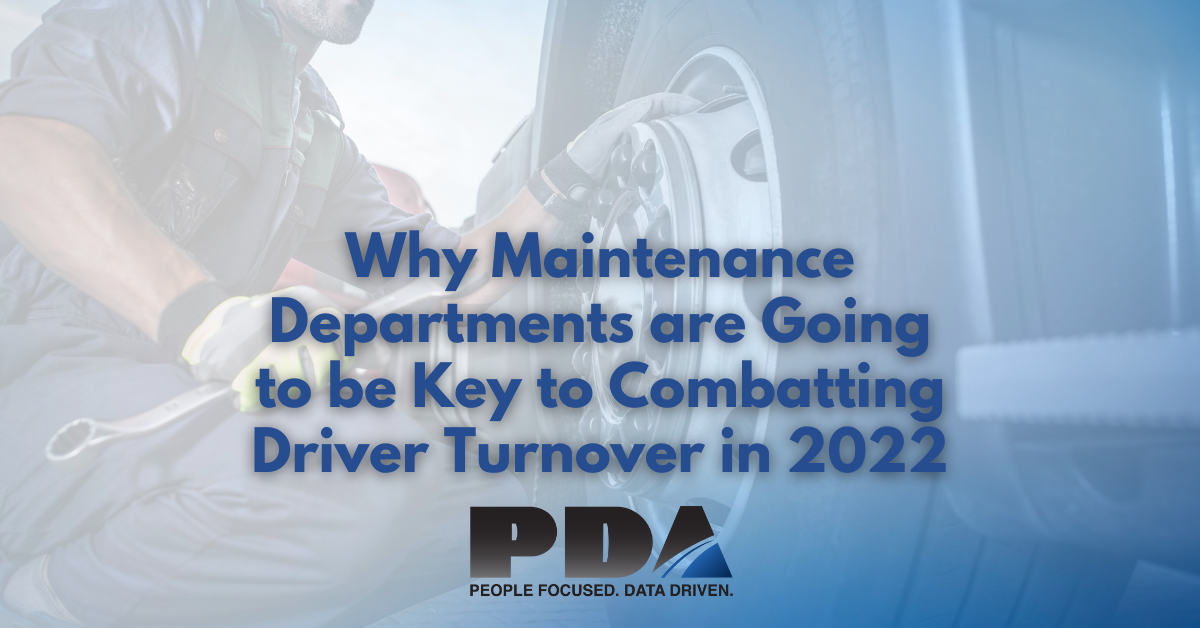 Why Maintenance Departments are Going to be Key to Combatting Driver Turnover in 2022
-
According to a Business Insider article from January 10, less than a month into 2022 semi-truck dealers have already sold out of new tractors for 2022. With orders for new tractors either delayed or cancelled, many OEMs have few open build slots available.
Compounding the issue are labor shortages and relatively large and unavailable inventories awaiting parts, like semiconductors and other key components to either getting new tractors off the assembly line or getting trucks out of the shop and back out on the road.
Driver retention is always a challenge, and in today's market of high freight volume, aggressive recruiting and industry wide pay increases, adding another retention hurdle into the mix is not exactly ideal.
The new tractor output, supply chain delays for parts and the diesel technician shortage is going to put pressure on maintenance departments. Fleets will be aging; drivers will be keeping trucks longer which likely means an increase breakdowns and mechanical issues.
PDA data has shown over the last three years that mechanical issues and tractor breakdowns have been one of the top driver frustrations. Data has also shown that unlike most issues, equipment issues evolve into other, larger issues for drivers, mainly compensation. Drivers that are consistently in the shop aren't logging miles and drivers that aren't logging miles aren't making the money that a carrier has promised. So that equipment problem this week, becomes a compensation problem next week.
So, in 2022, maintenance departments are going to play a key role in driver retention. Are they ready and what can be done to face this challenge in 2022?
Control what you can control – trucks are going to breakdown; it cannot be avoided. Drivers know that; carriers know that. So as carriers are assigning trucks to new drivers, make sure you have a truck assignment process in place. Trucks must be properly inspected and detailed before being assigned to a new driver. That first truck is a carriers first impression on a driver, make it a good one.
Communication, communication, communication – drivers are going to drive trucks longer, and while it may be difficult to say, set expectations with your drivers on when they can expect a new truck. Don't leave that hanging out there, go ahead and set that expectation now, even if you don't know. Drivers appreciate the honesty. New truck and parts delays are industry wide. Don't assume that drivers know that. Let them know that while it's a challenge for them, it's also a challenge for the shop.

Loaners are better than breakdown pay – do your best to keep a driver rolling. If loaners are available, offer them to drivers. According to a Fall 2021 PDA/CIA driver survey, 75% of drivers stated that their compensation is most impacted by equipment problems. Do everything you can to keep this week's equipment problem from becoming next week's compensation problem.

Review your breakdown pay – according to a recent PDA/CIA driver survey, 74% of drivers said they did not feel their carrier paid enough for ancillary pay (breakdown, layover, etc.). Instead of considering a cent per mile raise, consider increasing your breakdown pay as a way to promote a 'pay raise.'

Be prepared to answer the new truck question -- If you are fortunate enough to have a new truck inventory, drivers see that and will want to know why they aren't getting those trucks. Be prepared to communicate why and don't resent the question. Again, the truck is the driver's home and income source.

Don't neglect your shops and your mechanics – you are going to need your diesel technicians this year more than ever. Make sure they are treated and trained well. Clean shops, nice uniforms and proper training can go a long way.

Foster the mechanic/driver relationship -- create a culture where mechanics and drivers have a good, working relationship. When a truck is in the shop, technicians need to have a sense of urgency that they are working on a driver's home and primary income source. Drivers need to understand technicians are doing the best they can do during a challenging time. While this relationship can be tense at times a little communication and understanding by both parties can help bridge that gap.

Managing equipment issues will be one of the keys to driver retention in 2022. It will be a challenge for both carriers and drivers alike. Maintenance departments will be on the front line and those carriers that best navigate the equipment shortage, parts and supply chain delays and labor shortages can minimize turnover in 2022.